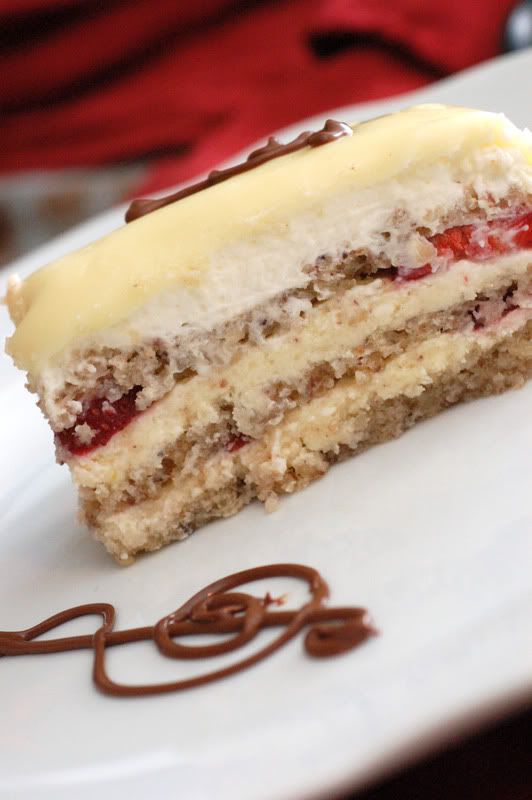 It's that time again...Daring Baker's time, that is! This month's challenge was a complicated French dessert called L'Opera Cake. I'd like to give a big "thank you!" to our 4 hosts at:
Cream Puffs in Venice
,
La Mia Cucina
,
Apples Peaches Pumpkin Pie
, and
Whiskful
. You can find the recipe in its entirety
HERE
.
I was a little intimidated when I saw the first photos of an Opera Cake...it's such an elegant dessert, and I was unsure if I could pull it off. But, I'm always up for a challenge...especially when it's something I've never even heard of. The recipe looks long and daunting, but if you approach each section of the cake separately, it's really not that bad. I broke the process up over 2 days. I made the buttercream, joconde, and syrup on the first day...and then the glaze and mousse on the second day. Assembling the cake definitely took some patience and attention to detail, but I think it came out pretty good...at least for my first one...hah.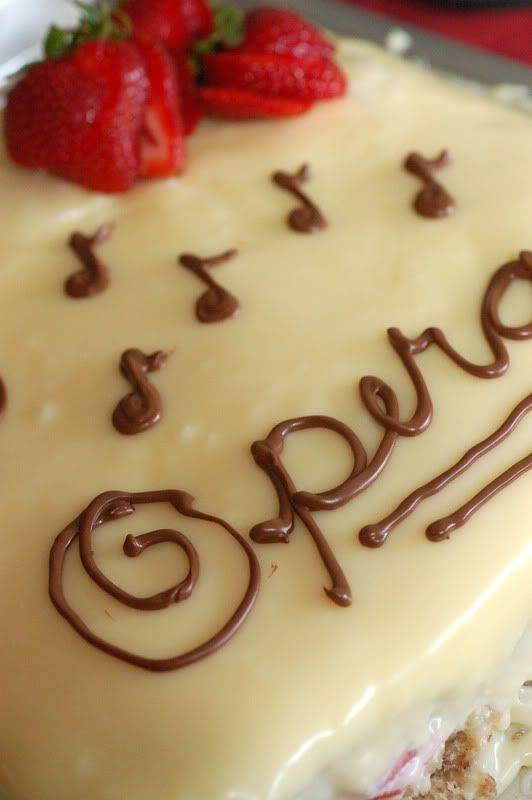 The cake has alternating layers of joconde (sponge cake), buttercream, and sliced strawberries. It's topped off with a luscious layer of hazelnut mousse and finally the white chocolate glaze. Traditional Opera Cakes are made with coffee and darker chocolate. However, this challenge limited us to light flavors/colors. Honestly, I was a little bummed when I found this out, because we are such big coffee fans. Any chance that I get, I love to incorporate coffee and chocolate into desserts. However, the cake was still awesome. We were allowed to play around a little bit with the flavorings. My main flavors turned out to be white chocolate, hazelnut, and strawberry. I decided to add strawberry slices in between the layers of joconde, and I'm very glad that I did.
This is what I used:
Joconde: Hazelnut meal
Syrup: Vanilla Extract
Buttercream: Vanilla Extract, Melted White Chocolate and Strawberry Slices in between layers
Ganache/Mousse: White chocolate and Frangelico Hazelnut Liquer
Glaze: White Chocolate
Here's some interesting information about the origins of L'Opera Cake from Epicurious.com:
"There are many stories about the origins of this cake, known as both Clichy cake and Opéra cake. Many believe that Louis Clichy was its creator because he premiered the gâteau, with his name written across the top, at the 1903 Exposition Culinaire in Paris. It became the signature cake of Clichy's shop on the Boulevard Beaumarchais. However, another pastry shop, Dalloyau, sold a very similar dessert, known as L'Opéra (in honor of the Paris Opera), and some claim that theirs was the original."
Without a doubt, I probably would have never made this dessert if it hadn't been for the Daring Bakers. I had a lot of fun with this challenge, and hopefully this won't be my last attempt at an Opera Cake! ;)